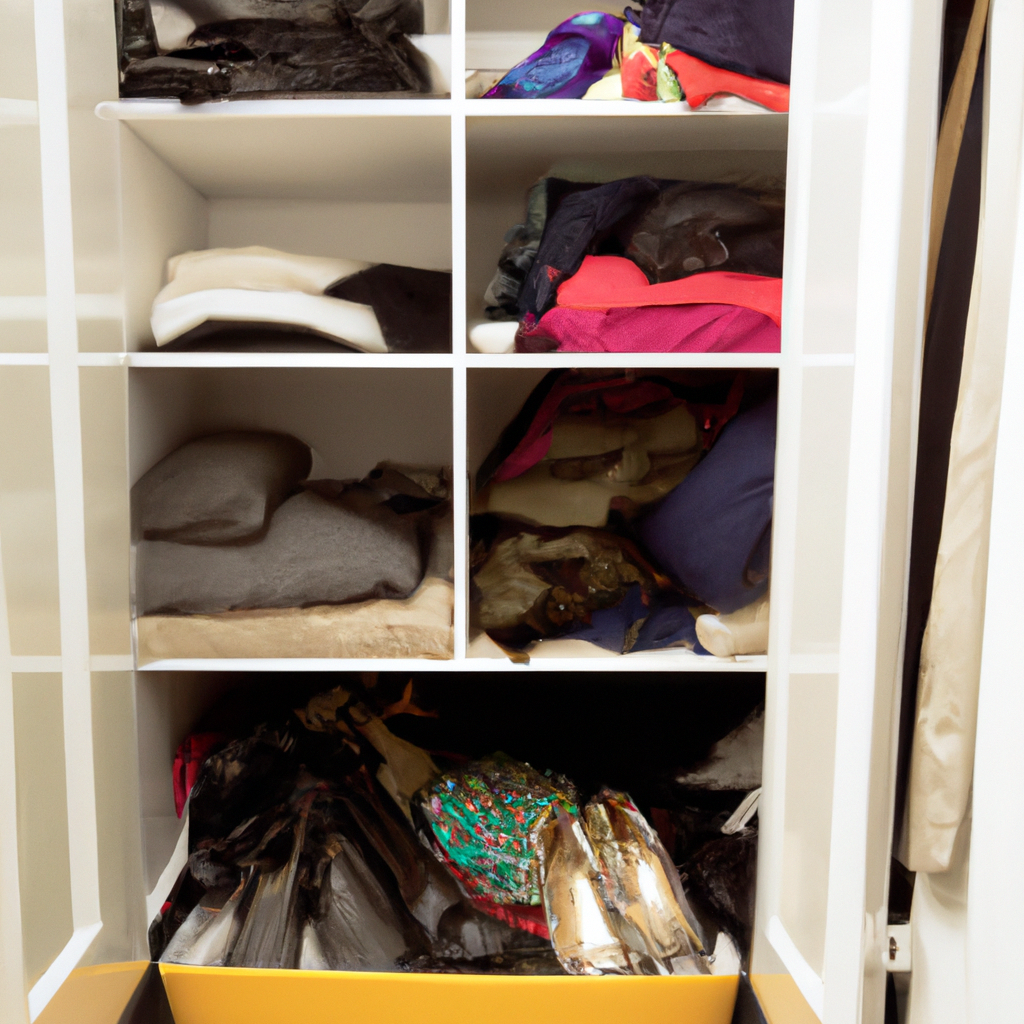 Donating your clothes and shoes can help the less fortunate, while decluttering your home. Here are some top spots for donation in NYC:
Goodwill – Many locations accept clothing, shoes, and other household items.
The Salvation Army – They accept donations of clothing, shoes, and other items.
Dress for Success – Professional clothing can help people get jobs.
Housing Works – Clothes and shoes go to fight homelessness and AIDS.
Beacon's Closet – A secondhand store that buys gently used clothing and shoes.
Donating not only helps others, but reduces landfill waste too!
Places to Donate Clothes in NYC
Donating clothes? Want to make a difference? New York City is the place for you! There are so many clothing donation centers to choose from. Charities, thrift stores – the options are endless!
For the best experience, give back and donate your clothes, shoes and other items. Do your part to provide a little relief in our communities. It's time to make a change!
Goodwill Industries
Goodwill Industries is a non-profit. It runs thrift stores in the U.S., including NYC. It accepts items such as clothing, shoes, accessories, and household goods.
When you donate to Goodwill, your items are sold in their stores. The money goes to fund job training, employment services, and other programs for those in need.
Goodwill has donation centers in Manhattan, Brooklyn, Queens, and the Bronx. You can also schedule a home pickup for large or bulk donations. You'll find a list of donation centers on the Goodwill website.
Donating to Goodwill helps their mission and reduces waste, promoting sustainability.
The Salvation Army Family Stores
Donate gently used clothes and shoes to NYC's Salvation Army Family Stores! They accept men's, women's, and children's clothing, plus shoes, bags and accessories.
By giving to a Salvation Army Family Store, you're helping people in need and reducing textile waste – a commitment to sustainability!
Pro tip: If you have questions about what to donate, or how to package your items, just contact your local Salvation Army Family Store or check out their website.
The Bowery Mission
The Bowery Mission is an NYC charity that gives shelter, food, and other help to homeless people. They take donated clothes and shoes, as well as other things for the home.
Here's how you can give to The Bowery Mission:
Put together some gently used clothing and shoes to donate.
Look on The Bowery Mission website – check if they need any special donations, like seasonal items or certain sizes.
Bring your donations to one of their places or drop-off points.
If you have a lot of stuff, you can arrange a pick-up on their website.
By giving to The Bowery Mission, you are making a real difference to those who need it most in NYC. Pro tip: Get your friends or colleagues to have a clothing drive, and then donate the collected items to the Mission.
Places to Donate Shoes in NYC
Doing a good deed? Donate those shoes! NYC has lots of places that'll accept your gently used shoes. Even the ones you didn't wear. Here are some spots in NYC to donate your shoes. Go be a good person!
Soles4Souls
Soles4Souls is an amazing non-profit organization. They accept shoe donations to help people in need around the world. If you're looking to donate shoes in NYC, they have a network of collection partners. DSW and AEO Inc. are two of their NYC-based partners. By donating to Soles4Souls, you can help provide footwear to those affected by global issues. Plus, it's an environmentally friendly choice, diverting textile waste from landfills.
DSW Shoe Donation Program
The DSW Shoe Donation Program is an awesome initiative! Donate new or gently used shoes to those who need them. Declutter your space and help others!
Donate your shoes at any DSW store. Drop them in the donation bin!
DSW will sort and give the donations to local non-profits and disaster relief organizations.
Can't get to a DSW? Donate clothes and shoes in NYC at Goodwill, Salvation Army, and Housing Works.
Giving clothes and shoes can make a huge difference and bring joy to donors.
Nike Reuse-A-Shoe Program
Nike Reuse-A-Shoe is an incredible initiative that helps prevent worn-out sneakers from going into landfills. How? By transforming them into raw materials for surfaces like running tracks and tennis courts.
Donate any type of athletic shoes at Nike retail locations or designated collection points. These shoes are then moved to a recycling facility and divided by material. They are then turned into granular material called Nike Grind.
Nike Grind is used to construct running tracks, tennis courts, and more.
Donating shoes to the program not just reduces waste but also provides a way to give back to your community.
Places to Donate Business Attire in NYC
Donating business attire in New York City? Consider these options! Clothing and shoe drives, special organizations – there's many ways to donate your gently used clothes and shoes. Here's a few of them:
Dress for Success
Dressing for success can give you a boost of confidence and help you make a good impression in the workplace. If you have gently used business clothing that doesn't fit, or you no longer need, consider donating it! In NYC, there are many organizations you can donate to.
For example:
Dress for Success: They provide professional attire and career development resources to women. Donations can be dropped off at their Manhattan offices, or partner locations.
Career Gear: They offer professional clothing, mentoring and job-seeking skills to men in need. Donations can be mailed or dropped off at their Brooklyn offices, or partner locations.
Housing Works: They operate thrift shops throughout NYC to end homelessness and AIDS. Clothes, shoes and accessories can be dropped off at any of their locations.
Goodwill: They accept all types of clothing and accessories, including business attire, at their many locations. The items are sold to support their job training programs and employment placement services.
Bottomless Closet
Bottomless Closet in NYC is a nonprofit organization that donates new and pre-loved business attire to women looking for jobs.
Here are some other places to donate garments and shoes in NYC:
The Bowery Mission – accepts clothing donations for men, women and children. Then distributes them to those in need.
Dress for Success – accepts business attire for women to wear for job interviews and at work.
Housing Works – accepts all types of clothing, then uses the proceeds from their thrift stores to fund services for people living with HIV/AIDS.
Big Reuse – donates used clothing and shoes for recycling and reuse.
New York Cares – yearly coat drive for winter clothing for those in the five boroughs.
Donating clothes and shoes benefits those in need and helps reduce textile waste and promote sustainability.
Career Gear NYC
Career Gear NYC is a non-profit org. It takes business attire and grooming products to help men get jobs and better their lives. Donate gently-used suits, dress shirts, ties, dress shoes, and grooming items such as cologne, razors, and shaving cream. Here's how:
Go to the Career Gear NYC website & find a donation drop-off location.
Wash & dry clean your items.
Drop them off during their business hours.
Plus, other NYC orgs accept clothes and shoe donations, like Goodwill, Salvation Army, and Dress for Success. Donating helps those in need and reduces textile waste in landfills.
Places to Donate Children's Clothes and Toys in NYC
Giving clothes to those who require them is a wonderful way to aid the community and those with less luck. In New York City, there are many possibilities when it comes to donating children's clothes and toys. There are both large charities and small local organisations that accept these donations. Here are some of the best spots to donate kids' clothes and toys in NYC:
Room to Grow
Donating children's items is a great way to free up some space in your home and help others at the same time. If you're located in New York City, here are a few places to donate your gently used items:
Room to Grow: An organization that supports families with kids under three. They accept new and slightly used baby clothes, toys, and gear.
Wearable Collections: Clothing donation bins around the city take used clothing, shoes, and textiles of any condition. They partner with charities and organizations to redistribute these items.
Housing Works: A non-profit that helps people with HIV/AIDS in NYC. Donations of gently used clothing, shoes, accessories accepted.
Big Reuse: A non-profit that takes donations of clothing, shoes, textiles, furniture, electronics, and building materials. Two locations in Brooklyn and Queens.
Baby2Baby
Baby2Baby is a non-profit org that provides kids living in poverty with basic necessities such as clothing, diapers, and other essentials. If you're in NYC and looking to donate clothes and toys, Baby2Baby is a great org to support. Here are some places you can donate:
Baby2Baby NYC
Goodwill
Salvation Army
Housing Works
New York City Rescue Mission
Dress for Success
Room to Grow
Donating to Baby2Baby and other orgs helps make a difference in the lives of children in need. Providing them with essential items they wouldn't have access to.
Pro Tip: Before donating, check with the org to see what items they accept. Also, any guidelines or restrictions to follow.
NYC Department of Homeless Services
The NYC Department of Homeless Services offers programs to aid families who are homeless. If you want to donate kids' clothes and toys in NYC, there are many organizations and spots to drop-off these items. Here's where to give children's clothes and toys:
Room to Grow: This non-profit takes new and used baby clothes, gear, toys and books for households in need.
Big Reuse: This organization takes new and used toys, books, and clothing for adults and kids. They also offer free pick-up for items that are too large.
GrowNYC: GrowNYC has clothing and textile recycling programs to reduce waste in NYC. You can drop off used clothing, shoes and linens at Greenmarkets across the city.
Goodwill: Goodwill accepts new and used toys and clothes at their donation centres throughout NYC. They also provide free pick-up service for big items.
Salvation Army: The Salvation Army accepts new and used clothing and toys at their donation centres and drop-off boxes around the city.
Donating kids' clothes and toys in NYC is a great way to help families in need and reduce waste in the city.
Tips for Donating Clothes and Shoes in NYC
Donating clothes and shoes in New York City may seem tricky. How to choose? But with the right info and tips, you can make sure what you give reaches those in need. Here's all you need to know about donating in NYC. Boom!
Check the donation guidelines of different organizations
Donating clothes and shoes in NYC? Research the organization first! Check the guidelines and what items are accepted. Pack your donation in labeled bags or boxes. Check if pick-up services or drop-off locations are offered.
Popular organizations in NYC include:
Goodwill
The Salvation Army
Housing Works
Dress for Success
Clean and sort your donations before dropping them off
Donate your clean, gently-used clothes and shoes to the community! Here's how:
Separate your items by season and gender.
Launder and dry-clean them.
Patch up any minor damages.
Don't donate clothes that are over-worn or tattered.
Make sure the shoes are still in good condition.
Places to Donate:
Housing Works Thrift Store
The Salvation Army
New York Cares
Goodwill Industries International
Just remember: Before donating, sort your items and make sure they're in the best condition possible. That way, the donation process will be much easier!
Consider scheduling a donation pick-up to save time and effort.
Donating clothes and shoes in NYC can be tricky. Schedule a donation pick-up for an easy way to help those in need. Here are some tips:
Research charities that accept these donations. Check their guidelines.
Schedule a pick-up date and time, if possible.
Sort and bag your items according to the guidelines.
Leave labeled and sealed bags outside your front door or with the doorman.
Get a donation receipt for tax deduction.
Frequently Asked Questions
1. Where can I donate clothes and shoes in NYC?
There are several organizations and drop-off locations throughout New York City that accept donations of clothing and shoes. Goodwill, The Salvation Army, and Housing Works are some of the most popular options. You can also use websites like DonateNYC and Big Reuse to find specific drop-off locations near you.
2. What types of clothes and shoes can I donate?
You can donate any gently used or new clothing and shoes. This includes shirts, pants, dresses, coats, sneakers, boots, and more. Some organizations may have specific guidelines or restrictions, so it's always best to check before donating.
3. Can I donate damaged or ripped clothing?
While some organizations may accept damaged or ripped clothing, it's always best to check beforehand. For example, some organizations may only accept clothing that is suitable for resale or redistribution to those in need.
4. What happens to the clothes and shoes I donate?
The clothes and shoes you donate may be sold in thrift stores or redistributed to those in need. Many organizations also recycle donated items that can no longer be used or sold.
5. Are there any tax deductions for donating clothes and shoes?
Yes, donations to charitable organizations are tax-deductible. However, it's important to keep detailed records of the items you donate and their value. It's also a good idea to consult with a tax professional to ensure you are following all necessary guidelines.
6. Can I schedule a pick-up for my donations?
Some organizations offer pick-up services for donations, while others may require you to drop off your items in person. It's best to check with the specific organization you plan to donate to for their policies and procedures